Blincyto ( Blinatumomab 38.5mcg)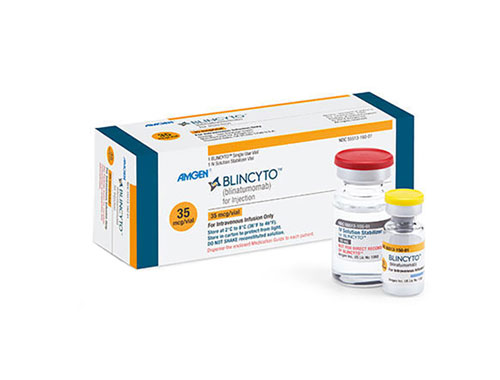 Enquire Now
We can help you get approved medicine that isn't approved or available in your home country.. To learn more, fill out the form below.
BLINCYTO @ is a bispecific CD19-directed CD3 T-cell engager indicated forthe treatment of adultsand childrenwith:
B-cell precursoracute lymphoblastic leukemia (ALL)in first or second complete remission with minimal residual disease (MRD) greater than or equal to 0.1%. This indication is approved under accelerated approval based on MRDresponserate and hematological relapse-free survival. Continued approval for this indication may be contingent upon verification and description of clinical benefit in the confirmatory trials
Relapsed or refractory B-cell precursor acute lymphoblastic leukemia
The information provided herein is not medical advice and is not intend to replace medical advice offered by a health care provider. Please consult your health care provider for advice.